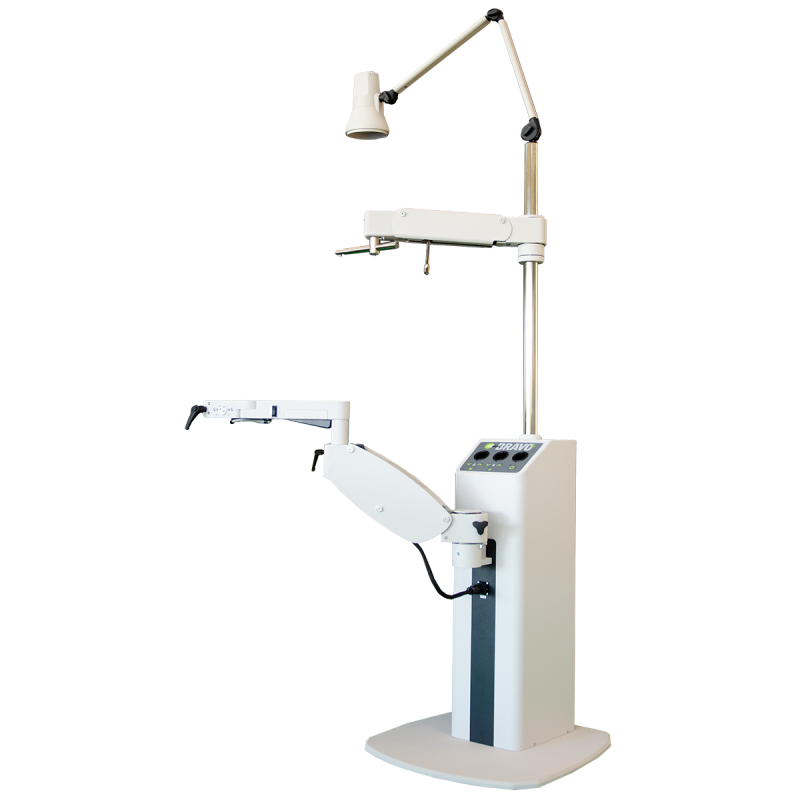 Bravo 2 Instrument Stand
The Bravo 2 Instrument Stand from Marco combines a fresh, new updated design with our high standards of performance, function, and durability.
A new, innovative design compliments the proven, 35-year mechanical operating system
An electronic release button and a chair elevation switch are both located on the lower slit lamp arm. The slit lamp arm's increased vertical travel easily accommodates wheelchair patients
An efficient counterbalanced refractor arm provides one-handed, immediate three-way locking of the refractor
A full-featured flat overlay switch panel controls the slit lamp, chart projector, accessory instrument, overhead lamp, chair elevation, and voltage for a corded instrument
Wheelchair accessible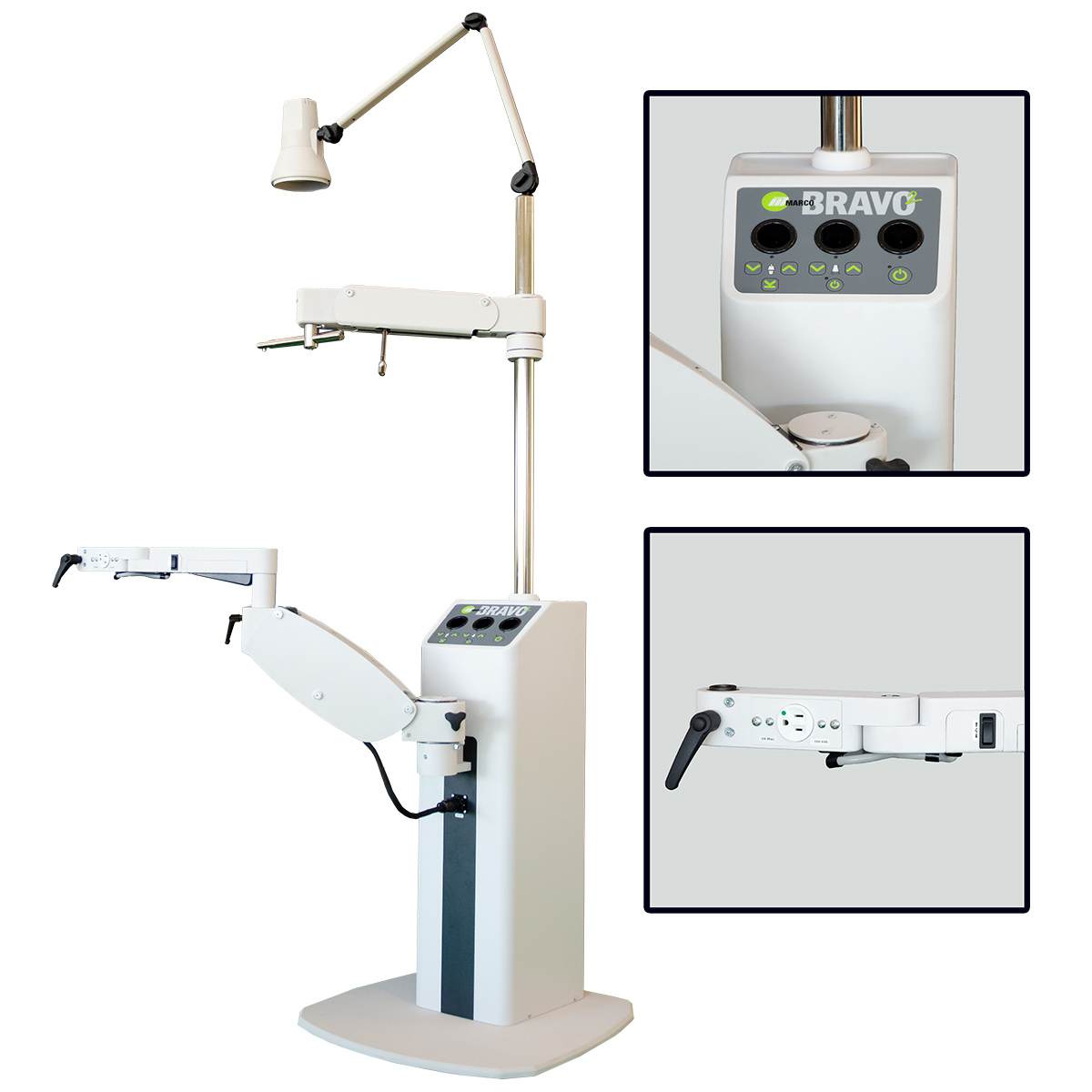 Fresh, New Updated Design
Attractive, modern design compliments any practice/office environment
Simplified membrane console panel provides convenient exam chair and overhead lamp controls
Robust lower slit lamp and refractor arms provide smooth, secure movement of mounted instruments
Instrument Control Panel
A simplified, redesigned membrane console panel provides controls for exam chair elevation and auto return, overhead lamp with adjustable rheostat, and three rechargeable instrument wells that accommodate all brands of handheld instruments.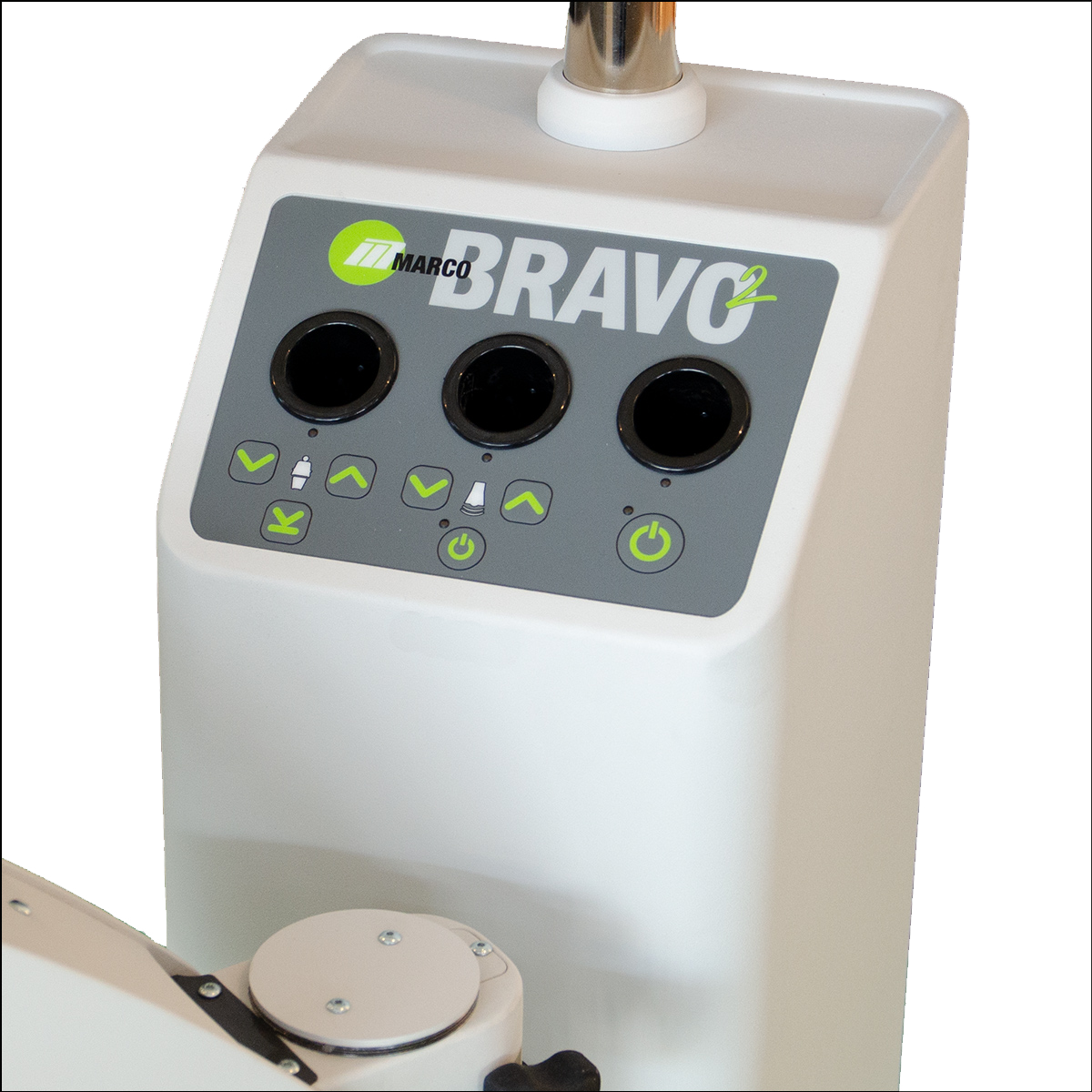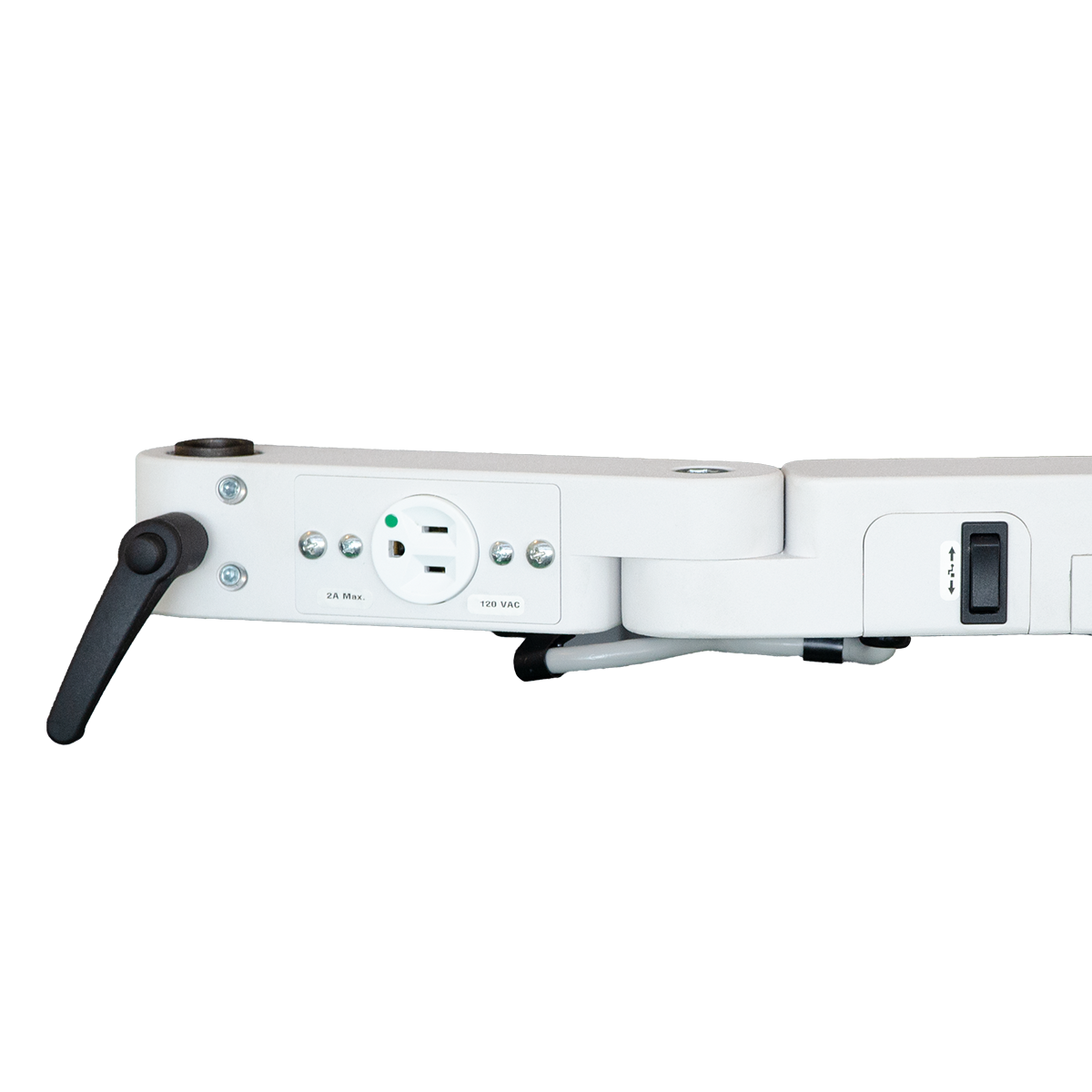 Additional Features
Counterbalanced Slit Lamp Arm – Creatively designed and engineered, the robust counterbalanced slit lamp arm provides an expanded range of motion to better accommodate a wide variety of patients, including handicap patients. A conveniently located locking/release mechanism provides smooth up/down travel and locking of the slit lamp. An electronic outlet is and USB charging port are also included.
Counterbalanced Refractor Arm – Carefully built with a natural, comfortable motion, the counterbalanced refractor arm includes a solid locking/release lever that ensures precise adjustments and secures locking of the refractor head in all three dimensions.
Overhead Lamp – Consistent with all Marco stands, the overhead lamp includes a long-lasting LED bulb that provides bright, direct illumination for general lighting or focused minor procedures. Durable construction allows for stable, one-handed adjustments in any direction.
Bravo 2 Instrument Stand Specs
Technical Specs
| | |
| --- | --- |
| Stand Base | 22″ x 23.25″ |
| Height Console | 33.5″ |
| Height Pole | 33.5″ |
| Slit Lamp Arm Capacity | Up to 60 lbs |
| Range | 13.5″ |
| Refractor Arm Capacity | Up to 20 lbs |
| Range | 12.5″ |
The Bravo 2 Stand provides the perfect blend of everyday efficiency and value.
Bravo 2 Instrument Stand
Simplified Console Panel
Efficiency and Value
Durable Construction
Counterbalanced Refractor Arm
Counterbalanced Slit Lamp Arm
Rechargeable Instrument Wells