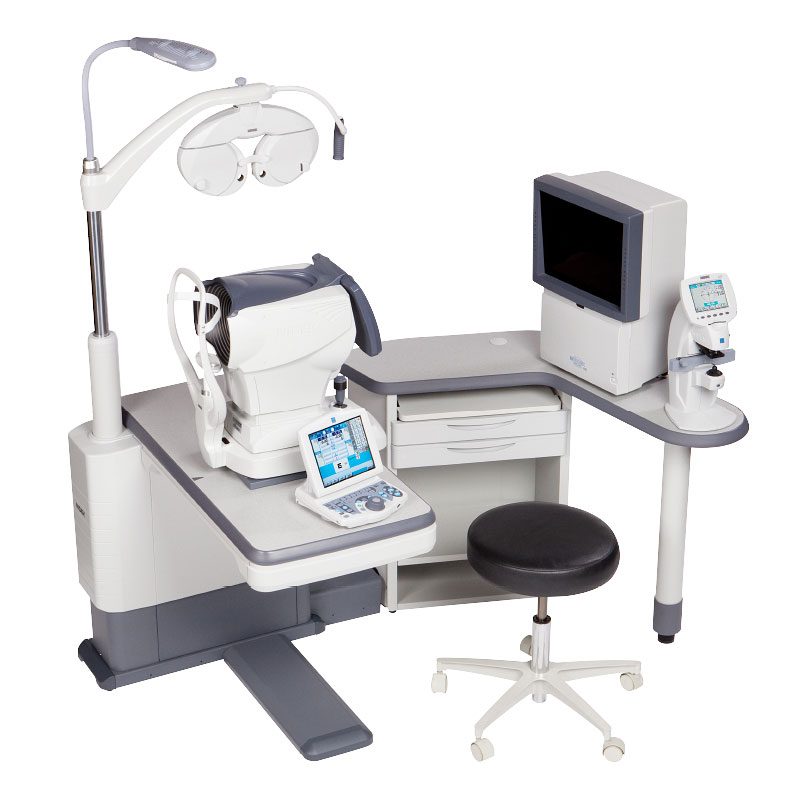 Our practice, Virginia Eye Consultants, is a tertiary care referral practice specializing in cornea, refractive, uveitis, retina, glaucoma, and oculoplastics. We firmly believe in collaborative care, and we work closely with the optometric community. Recently, our practice celebrated our 50th anniversary providing world-classspecialty eye care to our Hampton Roads community.
We house 17 providers, including 13 ophthalmologists, 4 optometrists, and 225 support team members, and we perform in excess of 5,000 surgical procedures annually, with the majority being cataract surgical procedures. We have four locations throughout the Hampton Roads area, with our main office located in Norfolk, VA, and three satellite offices located within 30 minutes of each other.
Several years ago, we made one of our best strategic and business decisions when we acquired Marco's EPIC-5100 for our main office. This is where the majority of our providers are based and most of our cataract and refractive evaluations are performed.
The EPIC-5100 combines two of Marco's most advanced visual pathway assessment technologies: the OPD-Scan III wavefront aberrometer and corneal analyzer and the TRS-5100 digital refractor. The two technologies can be used together to evaluate the entire visual system in a fraction of the time it takes traditional manual systems.
Indeed, we chose the EPIC-5100 system specifically to address and improve our patient throughput and efficiency, and we couldn't be more pleased. To say the EPIC-5100 has improved our performance in this area would be an understatement. The majority of our patients are referred to us for cataract and refractive surgery from our optometric referral network. Utilizing this technology has improved our efficiency through the technician workup alone.
Prior to implementing the EPIC-5100, our technicians took nearly 40 minutes to perform a patient workup, gathering data from visual acuities to topography to refractions. In the time since we've acquired the EPIC-5100, we have been able to get the same amount of data in just 15 minutes, allowing us to improve both efficiency and overall time for cataract/refractive evaluations.
The user-friendly platform enables technicians to quickly gather the critical data that are used to determine each patient's optimal treatment, whether that is for cataract or refractive surgery. A wealth of information critical to each patient's visual system from the refraction — wavefront measurements, pupil size, angle kappa, and corneal topography — is gathered swiftly and efficiently using the EPIC-5100. The EPIC-5100, combined with the OPD-Scan III, can give us more than 20 measurements to utilize in our decision making. Even better, all of the data can be captured in about 10 seconds.
Additionally, we have an OPD-Scan III at each satellite location, which allows us to gather the clinical information necessary to make our recommendations.
Patients and Practitioners Both Benefit
The decision of whether or not to adopt new technologies can be challenging. However, when it comes to innovative technology such as the EPIC-5100, the decision was easy for us. From the "wow" factor to patient education to informed clinical decision making, patients and practitioners both benefit from the EPIC-5100 and the OPD-Scan III.
Our biggest challenge prior to adopting the EPIC-5100 was patient wait times due to bottlenecks resulting from lengthy patient workups. As in any practice, patient wait times play a significant role in the patient experience, and it is important to continuously evaluate our practice processes and procedures to optimize care. With the Marco products, we are able to utilize the technology to improve throughput as well as the staff and patient experience.
The EPIC-5100 and OPD-Scan III technology differentiate our practice and provide information we can share with our patients. It gives them the confidence that they're in the presence of state-of-the-art technology that will be used to determine which procedures and surgeries are best for them. We measure patient satisfaction with surveys after each visit and gauge the patient experience by using the Consumer Assessment of Healthcare Providers & Systems survey; they show definitively that patients believe they're receiving the care they need and deserve. Each survey provides different information about the experience they had and the level of satisfaction with their care.
Enhancing Patient Education and Experience
Regardless of the condition for which a patient presents, patient education is key to successful outcomes. With the OPD-Scan III, we have the ability to educate patients about the impact on the ocular surface using the placido rings from dry eye to pterygium to other corneal surface irregularities. We can use the topography maps to discuss either the normal or abnormal corneal curvature, which shows why patients may have compromised vision and what we can do to address the condition.
Another feature of the OPD-Scan III that we take advantage of to educate our patients is simulating their vision before or after correction. In a practice like ours, this is turning out to be a vital tool in helping patients recognize the benefits of a new refraction, contact lens prescription, or surgical procedure.

As an optometric referral center, our practice's success and growth is focused on patient experience and outcomes. The "wow" factor experienced by the patient while going through testing as well as our ability to minimize wait times and the amount of time patients are seen for their cataract/refractive evaluation determines our success. The information the technology provides give us the ability to make a solid recommendation for treatment.
Marco has been a great partner with our practice in providing the support and resources we need to successfully implement and utilize their technology. From the initial training for the staff to the support for providers on how to understand and utilize the technology, Marco has truly helped us to maximize the technology in daily practice.
Innovative Technology Is Key to Success
It's also worth noting that implementing innovative technology is a key way to help differentiate your practice, prepare it for the future, and, perhaps most importantly, protect it against competition of all kinds. Online refractions, for example, provide limited data with questionable reliability. Technologies, such as the EPIC-5100 and OPD-Scan III, however, provide an unmatched experience and information that patients simply can't get online.
With changes in optometry due to supply and demand in eyecare providers, optometrists will be called upon to provide more medical eye care for our patients and communities. The EPIC-5100 and the OPD-Scan III can aid providers in gathering reliable data in an efficient manner while allowing us to concentrate on our patients' medical needs, such as diabetes, glaucoma, and cataracts, something the online competition cannot do.
Optometrists would do well to recognize these benefits and respond accordingly.
– Walter Whitley, OD, MBA, FAAO, is the director of optometric services at Virginia Eye Consultants, which serves the Hampton Roads region of Virginia.
Filed under: Marco Blog
Tagged with: doctors, epic, od, opd