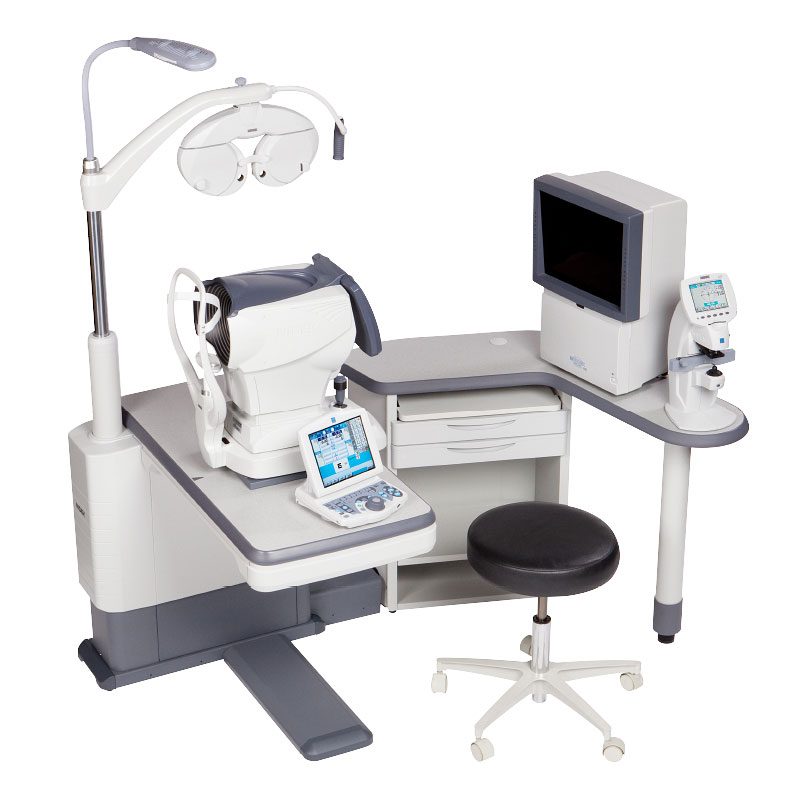 As a solo, private practice surgeon for the past 25 years, I've performed more than 25,000 cataract surgery procedures and more than 30,000 laser vision correction (LASIK, PRK) procedures in my career. After performing some 25 to 30 of these procedures each week, I can tell you that Marco's EPIC-5100 workstation is an absolute must-have piece of equipment in my practice.
Indeed, we conduct all of our cataract evaluations using the EPIC-5100, which comprises Marco's OPD-Scan III (a combination autorefractor, topographer, pupillometer, and wavefront aberrometer) as well as Marco's TRS-5100 digital refractor, autolensometer, and an electronic chart.
Using the powerful EPIC-5100, we can gather all of the information we need, including refractive data, angle alpha, angle kappa, pupillometry (mesopic and photopic), and corneal topography (corneal versus lenticular astigmatism) when considering IOL selection — all of which helps us to make the proper IOL selection for our patients. As a result, we are achieving better outcomes.
We all know that not every patient is a candidate for advanced IOL technology. Patients need to meet certain criteria, including angle alpha/kappa, corneal coma, and pupil sizes. The OPD-Scan III captures the data needed to qualify patients for multifocal, toric, and monofocal IOLs based on their individual visual needs. In addition, the OPD-Scan III gathers all of the information needed to assess aberrations in a patient's visual system. Dry eye, for example, will induce corneal coma, and being able to show the difference drops can make helps patients better understand this preexisting condition. Pterygia can be monitored and measured over time to know when they are creating aberrations and need to be removed.
Improving Efficiency and Patient Throughput
As an "all-in-one" device, the EPIC-5100 helps improve patient flow and data gathering. Not having to move patients from device to device saves time and provides more accurate data, specifically by reducing the risk of tear film dehydration resulting from the use of multiple diagnostic machines. The EPIC-5100 enables one technician to work up at least 30 patients per day. And with its small footprint, much less space is needed for the EPIC-5100 than an actual exam lane.
We only have one EPIC-5100 workstation because my office space can't accommodate additional EPIC-5100 workstations. But we plan to purchase two more when we move into our new office next year. We see roughly 50 to 70 patients a day, so two more EPIC-5100 workstations will be incredibly helpful. Other devices also can be added to the EPIC-5100 workstation for further testing, such as for tear osmolarity, increasing its efficiency that much more.
Another advantage of the OPD-Scan III is that it doesn't require repositioning the patient's head, as some other products do. When a patient's head is turned, and he or she is looking at a target, this can induce excyclotorsion, which could lead to erroneous imaging, such as induced astigmatism. The OPD-Scan III measures patients in their natural seated position.

I'm only slightly exaggerating when I tell you the EPIC-5100 station is fought over by all six of my technicians. They will be happy when we add those additional two stations, as this machine truly is the most efficient way to evaluate patients.
Patients Approve
Like our staff, patients enjoy the advanced approach to our workups using the EPIC-5100. In fact, most say they've never had such advanced diagnostic testing in past eye exams. Furthermore, our patient education and IOL recommendations are improved because the OPD-Scan III enables us to gather the data so easily, and we are able to show patients their measurements right there in the exam lane using the system's viewing software. For example, we can highlight areas on the ocular surface where they have dry eye, show them their corneal topography, or display a retro illumination of the eye that shows their cataract. They really get a kick out of that!
Practice Growth
By increasing the number of patients we can see in a day, our practice has realized at least a three-to-five fold increase in profitability, measured in time and patient conversions to surgery with appropriate surgical approaches selected based on our use of the EPIC-5100 technology.
I would be remiss if I failed to mention that Marco has been an excellent company to work with throughout the last 20 years. The representatives are extremely knowledgeable on the technology, and Marco's training capabilities make the transition and integration quite easy for my technicians — especially when a new staff member joins our practice.
The bottom line: I have found that the EPIC-5100 results in better efficiency, happier technicians, and more advanced decision-making capabilities. Not only does this make for a happier doctor, it has led to better outcomes and happier patients. What's not to love about that?
– Mitchell A. Jackson, MD, is the founder and CEO of JacksonEye in Lake Villa, Ill.
Filed under: Marco Blog
Tagged with: doctors, epic, md, opd