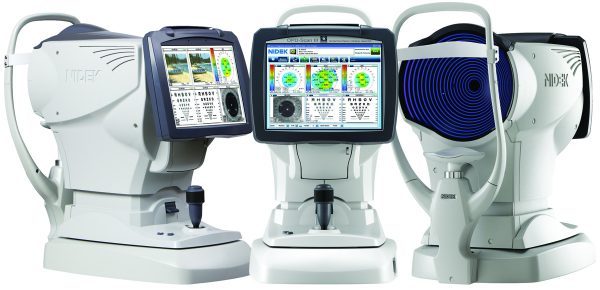 As a veteran ophthalmologist who is still relatively new to running my own private practice, there's probably not much advice I can offer to my more experienced colleagues. But to my younger peers, I can speak from experience: Go with Marco's OPD-Scan III as you venture forth to open your own private practice. You'll be glad you did.
After earning my medical degree from the University of South Florida College of Medicine in 2000, I completed an ophthalmology residency at the University of Florida and my corneal surgery/refractive surgery/uveitis fellowship at the University of California, Davis, where I used the OPD-Scan I and OPD-Scan II for pre-LASIK screening and surgical planning. I also used the two devices for surgical evaluation and planning of corneal-transplant patients. After completing my fellowship, I wenton to practice with a large multispecialty group in Southwest Florida, where I had access to many types of anterior segment diagnostic devices.
In October 2015, I decided to leave that group and start my own practice. To do so, I needed my own accurate and reliable diagnostic equipment. I looked closely at many machines, and test drove several. Ultimately, based on my previous experience with older versions of the OPD and Marco's unparalleled track record, I selected the OPD-Scan III to accompany me on my new endeavor in private practice.
Fast, Reliable Data
Don't let the singular name fool you. Like your favorite smartphone, the OPD-Scan III actually consists of five powerful "apps" — an autorefractor, a keratometer, a pupillometer, a corneal topographer with 11,880 data points, and that aforementioned integrated wavefront aberrometer with 2,520 light vector data points.
Moreover, this single device completes 20 diagnostic metrics in less than 10 seconds per eye (including angle kappa and angle alpha, HOAs, average pupil power, RMS value, and point spread function, among others). Wavefront data are gathered from available zones up to a 9.5-mm area, adding the capability to provide for calculation of mesopic refractions. Blue light, 33 ring, placido disc topography is gathered in just 1 second.
Although it's true that other units in the marketplace can obtain similar images and information,they're not nearly as simple to use. The OPD-Scan III makes it incredibly easy to create new templates, showing only the information you want to see at any given time for any patient.
As a corneal specialist who actively performs corneal surgeries, such as penetrating keratoplasty and a high percentage of premium IOL and refractive surgeries, I can get all the information I need from the OPD-Scan III for everything from the simplest exams to the most complicated decision-making processes for corneal transplant patients.
With respect to my preoperative cataract surgery patients, for example, I frequently turn to the multifocal IOL (mfIOL) algorithm to assist in IOL selection. This powerful tool provides me with a "decision tree" to confirm in an algorithmic way which specific IOL would be best for a given patient. The algorithm provides me with accurate corneal astigmatism, angle kappa, corneal coma, and pupillary size — all of which play an important role in selecting the proper mfIOL. Indeed, I believe my accuracy and patient satisfaction have increased significantly since I began using this algorithm.
For toric IOL selection, the algorithm gives me another precise measurement that I can compare to other diagnostics, including manual keratometry and my Lenstar biometer. I feel most comfortable when I can compare all of these data, but I would also be comfortable using the OPD-Scan III alone.

Less Space, More Patients
It helps our practice immensely that all of these capabilities fit into an 11″ x 18″ footprint. Since its inception less than 2 years ago, our practice has grown from two employees to seven across two offices in Naples and Fort Myers, FL, and an affiliate office in Miami.
As a relatively new practice in a small office space here in Naples, we have been tasked with seeing patients efficiently and without the luxury of an extra room. The OPD-Scan III allows us to achieve this goal. We see about 100 patients per week at Naples and Fort Myers. In addition, I perform about 30 surgical procedures per week for all three offices. All of the information I need about a patient's vision can be obtained with this single machine. The unit is definitely space and time efficient.
Impact on Staff
My staff also loves working with the OPD-Scan III. Frankly, they were a little concerned with learning what appeared at the outset to be a complex machine, but after surprisingly short training sessions with Marco representatives, we all were up and running in no time. The same was true with the in-house, hands-on training for our second technician, who required very little ramp-up time (24/7 online training tutorials are also available). For its part, Marco has far exceeded my expectations for customer and technical service. Issues are always resolved quickly. On the few occasions it became necessary, Marco provided a loaner device on short notice, so our workflow wouldn't be disturbed. Indeed, the loaner backup is a big selling point to me when evaluating other diagnostics and providers.
High Impact on Patients — and Satisfaction
Our patients notice when they sit down in front of one small machine, only to be told a very short time later that we've obtained all the information needed for the exam. I can't tell you how often I'm asked by a surprised patient, "You really got everything you need from just that one exam?" I also believe patient satisfaction comes in the form of successful visual outcomes, especially with premium IOL patients. I know it has helped with our ability to successfully prescribe appropriate IOLs for each patient. Thanks, in no small part, to the OPD-Scan III, we have had a high percentage of premium IOL patients and a very high success rate.
Heed My Advice
As I mentioned at the outset, to those ophthalmologists coming up behind me to start their own practices, I can definitely offer a word to the wise: Go with the OPD-Scan III as you embark on practice ownership. This accurate, state-ofthe-art, all-in-one, time- and space-efficient unit does it all. It eliminates the need for multiple diagnostic machines, and it can be used for corneal and refractive surgeries and evaluations, as well as pre- and post-op planning and evaluations. But don't just take my word for it — go and see for yourself. You will understand what I mean.
– Dr. Ginsberg is owner and operator of Ginsberg Ophthalmology in Naples, FL.
Filed under: Marco Blog
Tagged with: doctors, md, opd