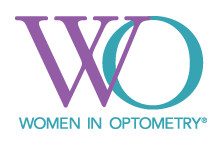 Original Article Published in Women in Optometry
–
Like every doctor who purchased a practice in mid-2019, Nyssa d'Hedouville, OD, could not have anticipated that just seven months in the future, the COVID-19 pandemic would force her to close Mashpee Vision Care, the Mashpee, Massachusetts practice she acquired, for two-and-a-half months. But she sees some positive developments that came out of that time. "I updated every area of the practice while we were closed to routine patient care," she says.
While the practice did have a visual field analyzer and older optical coherence tomography equipment, she wanted a higher-tech experience for her patients.
She added Marco diagnostic and lane equipment, include the TRS 6100 automated refraction system, the OPD-Scan III and iON imaging system. The advanced technology has been a benefit in a number of ways.
First, it has sped up the time it takes to get an accurate refraction. "The technician measures the patient's current eyewear in the lensmeter and performs an OPD scan. That is all uploaded into the TRS when I come into the exam room," she says. Patients love not being asked the old "1 or 2" question, and she sees an immense benefit to being able to toggle back and forth between their previous prescription and the new one. "Patients are much more likely to purchase new eyeglasses if they understand what the difference in their vision is going to be. It's much faster than dialing the prescriptions in and going back and forth," she says.
The simulator that generates a depiction of the patient's visual acuity is great for patients – and parents of young patients. "I had a young man who came in with his father. The patient had been diagnosed with keratoconus and could not achieve clear vision with eyewear. I was able to use the simulator to show his father how higher order aberrations made his son's vision so poor. Suddenly, the father understood why getting the son fit with specialty contact lenses became imperative. Because I had those measurements ahead of time, I could save time, instead of repeating what had happened so often before when doctors were unable to get him seeing clearly with eyeglasses." Similarly, that strategy works well for parents of young children, too.
Best of all, she can conduct her exam with just as much personal attention – but at a great distance with the TRS and iON. "I'm able to sit further away than I could during earlier slit lamp examinations. Plus, it's great for patient education," she says. She can share the images with the patient and explain what she's looking at, whether that's blepharitis, dry eye, nevi or lid lesions. "It's so much easier for the patient to understand what we can see when they look at the image. It helps show the value of what we do, especially when we can use the first day's measures as a baseline and then show them the effectiveness of the treatment."
Just as important as the physical distance – the feature that most attracted her when she was able to start welcoming patients back into the office – is the patient education aspect. The result is increased face time, where she's talking directly to the patient about a refractive or ocular health issue.
The diagnostic instruments also provide her with a better idea of what she's facing. For example, the patient may have said nothing about dry eye symptoms, but the OPD-Scan III data indicates that the patient might have dry eye. "So often, when I tease out whether the patients have symptoms, they tell me that they do, but they did not think it was significant or that I could do anything about it."
Finally, the data from the TRS is uploaded directly into her electronic medical record, which means she doesn't have to worry about transposition errors.
As these benefits revealed themselves, they reinforced the value of bringing this equipment it. "As business owners, we're always worried about our return on investments. But rather than ask whether it's something you can afford, take a look at how it can affect your practice. For me, this technology has halved the amount of time I need to do a refractive exam. My technician has already gathered good data, and I can finish that portion of the exam more quickly. The patient can see whether the new eyewear would help, so it has resulted in more sales and a higher capture rate," she says.
"I got it because I was worried that I wasn't going to be able to open without having this technology. But now I enjoy it for all the other benefits it brings."
Filed under: Marco Blog
Tagged with: doctors, opd, trs